Treatment of Relapsed Multiple Myeloma With Bispecific Antibodies
Last Updated: Wednesday, September 20, 2023
Presentation
The patient is a 73-year-old female with Revised International Staging System (R-ISS) stage I IgG kappa multiple myeloma, initially diagnosed in 2015. She underwent induction therapy with lenalidomide, bortezomib, and dexamethasone (RVd) for 8 cycles with stem cell mobilization following cycle 4 of therapy, but she declined an autologous stem cell transplant (ASCT), preferring to stay on her current therapy. She achieved a stringent complete response following the 8 cycles of RVd and went on lenalidomide 10 mg maintenance, which she tolerated well.  
She did well for about 4.5 years initially with a slow biochemical relapse and no CRAB (hypercalcemia, renal failure, anemia, and bone disease) features; however, over time she became more anemic and wanted to continue on an oral regimen. Ixazomib and dexamethasone were added to her regimen with stabilization of numbers for a period of time. She again had a rise in her monoclonal (M) protein and anemia with restaging with no new lesions or high-risk features. She was started on daratumumab, pomalidomide, and dexamethasone with stabilization of her paraprotein. She tolerated therapy, although she started to have a rise in her paraprotein and free kappa light chain (FKLC) close to 1.5 years later. Restaging was unremarkable for new lesions and bone marrow at that time, with 30% plasma cell with fluorescence in situ hybridization (FISH) and cytogenetics negative. She was started on carfilzomib, cyclophosphamide, and dexamethasone for 12 cycles and then continued on carfilzomib and 4 mg of dexamethasone.  
In May 2023 the patient again had a rise in her FKLC and M protein. She also reported new bone pain, with PET noting a new F-fluorodeoxyglucose-avid right proximal humerus and T7-8 lesions with re-demonstration of some of the previously seen lesions with mild uptake. Her marrow demonstrated 60% plasma cells, flow positive, and no cytogenetic abnormalities, although she now has deletion 17p in 44 out of 50 cells per FISH. Other comorbidities include atrial fibrillation, asthma, hypertension, and grade 1 peripheral neuropathy to both feet. 
Treatment
At this point, our patient is 81 years old, has had 4 lines of therapy, and is relapsing. As noted, she also has new bone lesions as well as deletion 17p, a new high-risk feature. This is a more rapid progression than she has experienced in the past. We spent time discussing current treatment options, including both chimeric antigen receptor (CAR) T-cell therapy and the bispecific antibody (BsAb) teclistamab. When considering CAR T-cell therapy vs. a bispecific antibody, the advanced practice provider (APP) needs to consider how the patient is doing clinically and how rapidly the disease is progressing. In this case, we felt the patient could not wait for CAR-T. 
After discussing available options, due to the rapid progression of our patient's myeloma, we decided to move forward with the BsAb teclistamab. The patient was admitted for ramp-up dosing, experiencing grade 1 cytokine release syndrome (CRS). After resolution of the CRS, she was discharged; she started weekly dosing in the outpatient setting. She continued on zoledronic acid and an antiviral with valacyclovir and started on Pneumocystis jirovecii pneumonia prophylaxis and monthly intravenous immunoglobulin (IVIg). On admission, her paraprotein was 4.51 g/dL, FKLC was 845 mg/L with stable anemia, and rising creatinine at 1.7 mg/dL. She did well with initial stabilization of her FKLC and improvement in her paraprotein. Her most recent labs show ongoing response to therapy, with FKLC at 28.1 mg/L, IgG paraprotein at 0.16 g/dL, and normalization of her renal function. As mentioned, we started monthly IVIg, and our patient has not had issues with recurrent infections at this point. Complete restaging with PET and bone marrow biopsy was ordered for day 100.  
Discussion
Teclistamab is a BsAb that targets both the B-cell maturation antigen (BCMA), which is expressed on the surface of malignant plasma cells, and CD3, which is on the surface of T cells, creating T-cell activation and destruction of the myeloma cell.1,2 BCMA-targeted therapies are approved for patients with myeloma who have received four or more lines of therapy, including an immunomodulatory agent, a proteasome inhibitor, and an anti-CD38 antibody, so our patient would be eligible for teclistamab based on her treatment history.  
In the phase I study of teclistamab (MajesTEC-1) for patients with relapsed or refractory myeloma, the phase II dose of 1.5 mg/kg was identified. In the phase I/II study, 165 patients received 1.5 mg/kg, preceded by step-up dosing to mitigate CRS with an overall response rate of 63%.1,3,4 Cytokine release syndrome occurred in about 72.1% of patients, with most being grade 1 or 2, which did resolve; no patients had to discontinue teclistamab due to CRS1(Table 1). Median time to onset of CRS was 2 days. Headaches were the most frequent neurotoxicity noted on the study1  (Table 2). The primary concerns with a BsAb, whether it is teclistamab, elranatamab, or talquetamab, are CRS, neurotoxicity, risk of infection, and logistics around ramp-up dosing.1,5-7 Talquetamab has a different target, so APPs need to be aware of G protein–coupled receptor, class C, group 5, member D (GPRC5D)-specific side effects such as skin- and nail-related issues and dysgeusia.6,7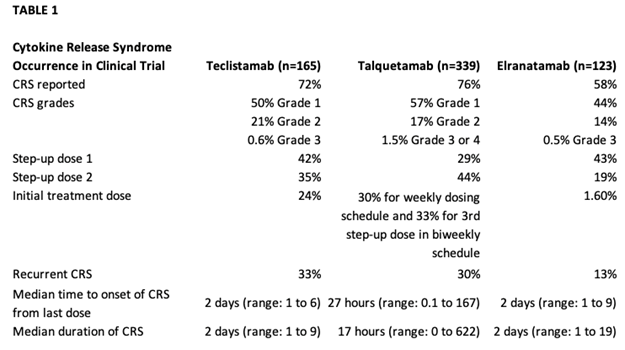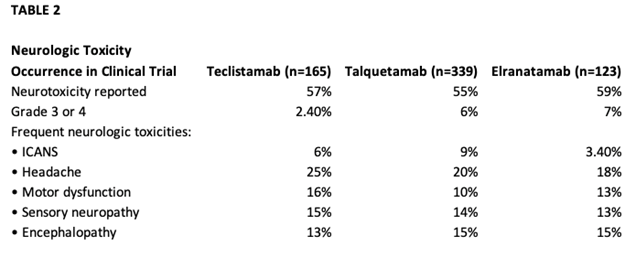 At the time we were considering a BCMA-targeted therapy for this particular patient, two CAR T-cell therapies and one BsAb were FDA-approved for heavily pretreated patients with relapsed/refractory multiple myeloma. Two additional BsAbs have since been approved: elranatamab targeting BCMA and talquetamab targeting GPRC5D (as mentioned above). Advanced practice providers have more treatment modalities to consider when discussing next treatment options. They need to consider the clinical status of the patient, prior lines of therapy, and rate of progression when considering a BsAb vs. CAR T-cell therapy. This case is an example of a multiply relapsed myeloma patient who has several options. As APPs, we are an integral part of our care team when discussing and deciding the next line of therapy. 
References
Moreau P, Garfall AL, van de Donk NWCJ, et al. Teclistamab in Relapsed or Refractory Multiple Myeloma. 

N Engl J Med

. 2022;387(6):495-505. doi:10.1056/NEJMoa2203478

 

Lancman G, Sastow DL, Cho HJ, et al. Bispecific Antibodies in Multiple Myeloma: Present and Future. 

Blood Cancer Discov

. 2021;2(5):423-433. Published 2021 Aug 17. doi:10.1158/2643-3230.BCD-21-0028 

 

Cipkar C, Chen C, Trudel S. Antibodies and bispecifics for multiple myeloma: effective effector therapy. 

Hematology Am Soc Hematol Educ Program

. 2022;2022(1):163-172. doi:10.1182/hematology.2022000334 

 

Usmani SZ, Garfall AL, van de Donk NWCJ, et al. Teclistamab, a B-cell maturation antigen × CD3 bispecific antibody, in patients with relapsed or refractory multiple myeloma (MajesTEC-1): a multicentre, open-label, single-arm, phase 1 study. 

Lancet

. 2021;398(10301):665-674. doi:10.1016/S0140-6736(21)01338-6

 

Lesokhin AM, Tomasson MH, Arnulf B, et al. Elranatamab in relapsed or refractory multiple myeloma: phase 2 MagnetisMM-3 trial results [published online ahead of print, 2023 Aug 15]. 

Nat Med

. 2023;10.1038/s41591-023-02528-9. doi:10.1038/s41591-023-02528-9 

 

Chari A, Minnema MC, Berdeja JG, et al. Talquetamab, a T-Cell-Redirecting GPRC5D Bispecific Antibody for Multiple Myeloma. N Engl J Med. 2022;387(24):2232-2244. doi:10.1056/NEJMoa2204591 

 

Chari A, Touzeau C, Schinke C, et al. Talquetamab, a G Protein-Coupled Receptor Family C Group 5 Member D x CD3 Bispecific Antibody, in Patients with Relapsed/Refractory Multiple Myeloma (RRMM): Phase 1/2 Results from MonumenTAL-1.

Blood

. 2022;140(Supplement 1):384-387. doi:

10.1182/blood-2022-159707